Best Social Media Marketing Strategy Guide
Social media is the next big thing after the internet and is even much bigger than the internet itself. If I talk about 10 years before, it was difficult to reach 100 people in one day. But now we can do so in even lesser time. Now we have become digital social.
You will find more infographics at
Statista

The internet is becoming bigger day by day and transforming the tools it has.
If we see the stats, there are 4.2b active global social media population and Facebook is the dominant one. Out of 4.2 b, 4.15 b population is active on mobile social media platforms.
While getting more into facts, the country with the most WhatsApp users in India with Brazil and US on second and third positions respectively.
You will find more infographics at
Statista
According to reports of January 2021, Fb is the leading social network with the most active users.
But before that let's know exactly what social media marketing is?
"Social media marketing is the use of social media to promote a product or content."

According to www.wordstream.com, "SMM is a form of online marketing that includes sharing of content over a social network to fulfil marketing goals."

Like the tweet shows how you will face the situation that was previously been created by you. It is shown with a small tweet that is easy to read and understand.
On the other hand, if I look into the second image, there's a long paragraph contextualizing the content. But there's trouble to understand it. Maybe the later one is more exact or good to explain the concept and has more facts but got less reach and user interaction.
It's all because of how the social network audience is approaching the short and precise content with only useful information. The social media algorithm boost such content. That's where you can win!!
Let's look at how different social media platform carries out marketing and content sharing.
Facebook (Best Social Media Marketing Strategy)
Facebook has Facebook pages for marketing. You can create a page for your brand to share your products. Anyone connected with your page can like and share them. But to get them more visibility and reach facebook makes you promote them i.e., pay for promotion. But if you don't want to pay the extra money, you can promote your products in the long run with people liking or sharing your page.
Facebook also has groups, marketplace and jobs feature to promote a wide content.
The marketplace is super effective if you have a product to sell. It's like an online store just inside the Facebook system. After setting a shop on the marketplace, your products are visible when anyone searches on Facebook.
Another important factor facebook has is Ads targeting.
You can promote your product by targeting a defined set audience for a particular location. You can set defined geographic location and people in those locations only will see your advertisement. Facebook ads are a great tool for generating conversions or traffic over the site. Facebook has better demographic information about its users therefore one of the best for ads targeting.

Ads will be run based on per impression pr per click. You can also set a limit for ads thereby preventing excessive budget flow. Ads are a great way to market your product as you have defined its reach. Therefore they are better than groups or marketplace.
Instagram (Best Social Media Marketing Strategy)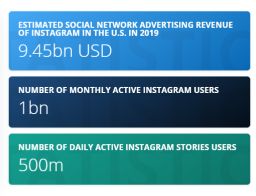 According to data, total advertising revenue from Instagram in the U.S. in 2019 was 9.45bn USD. This shows huge growth of content over Instagram.
In terms of ads targeting, it's like Facebook. You can decide the budget to be spent on ads with a defined set of audience and location. The Instagram users for that specific demographic will see your advertisement.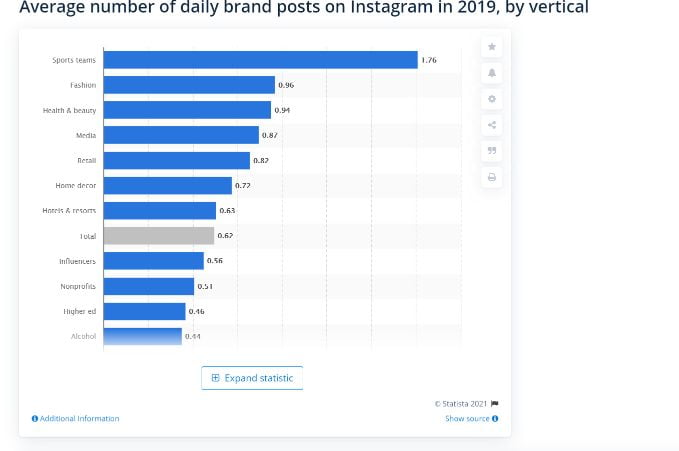 The above data shows the number of average daily post the brands make on Instagram.
According to December 2019 survey in the U.S, there are 8% of people on Instagram have made a direct purchase from the platform. This number is slowly increasing due to an increase in its users.
As marketing is not always paid or through ads, there are more ways to do it. Out of several social media platforms, Instagram has the highest engagement rate. It was all about pictures, videos and messaging. Previously it was highly active on a normal post in a picture or video format. But now the high engagement is in videos and a new tool called REELS. This has a high potential for making the content viral and gets high reach in less time.
The stories are a great way to market any service or product quickly and connect with real customers.
Also Read: Best SEO Techniques for Effective Ranking
YouTube
Well, it doesn't need any intro, as it's the most popular video streaming platform with active users of 1.68bn.
It has 126 million monthly unique viewers it has high scope for advertising. So how youtube ads look like.
Do you remember the last time you were watching your favourite series on youtube and suddenly a video ad starts playing. You get irritated because you can't skip this ad. That's what youtube ads look like.
But to be factual, they are greatly effective for promotion or marketing.
In the Q4 of 2020, YouTubes global advertising revenue was 6.89 billion U.S. dollars.
Youtube has got revenue of 19.77bn USD globally from advertisements. That means people are spending on YouTube ads with full flow. The best part is video ads has more conversion ratio than image ads. YouTube makes this process easy and the content is shared with a potential video. The users are more likely to click on ads and show conversion.
You will find more infographics at
Statista
LinkedIn

LinkedIn is older than Facebook founded in 2002 by a member of PayPal. Initially there we fewer than fewer members on LinkedIn. But now there are more than 740 million users around the world. That's more than the number of Twitter users.
It was founded for the most crucial reason that is, finding jobs and connecting with colleagues. It is a social network for professionally created for sharing resumes and ideas and recommendations by their mentors.
Now it has become a huge network and a great opportunity for creators and marketing guys.
You will find more infographics at
Statista
According to the above data, it shows that a perfect and optimised LinkedIn profile gives a boost to your job chance. In the year 2020, the annual revenue of LinkedIn was 8.05 billion U.S. dollars, increasing from 8.05 billion U.S. dollars. This shows that brand promotion and marketing is super effective and organic.
LinkedIn is one such platform that has super organic growth. Best Social Media Marketing Strategy can make a great impact in the marketing brands product Like other social media platforms, LinkedIn also has ads sections. That is you can use LinkedIn to run your ads.
Snapchat
People believe Snapchat is something stupid or some random engaging platform. But most millennials don't think the same way. It has 238 million active users daily with most of them are girls. Snapchat has an annual revenue of 2.5 bn USD in the year 2020. That's huge and shows the growth of Snapchat in every aspect.
As the content there remains for short time, you need to contextualise accordingly. If you are having a product for a 15-year-old boy, and not targeting Snapchat you are doing it the wrong way.
You will find more infographics at
Statista
In the U.S most of the ads spending for political ads is done on Snapchat.At this point Snapchat is one of the Best Social Media Marketing tool for better marketing Strategy It spends about half a million on Snapchat ads in a year. However, in some countries, it's still at ground level due to wrong approaches or less awareness.
Snapchat requires more creativity on your part as a user can your content only once. So it needs to be super catchy.
Conclusion
There's a lot more to social media marketing as we are moving ahead. You can set some of the tools and try with the latest strategies and approach for better marketing. The most important thing if one of the social networks gets less popular there's a new one in your way. So the scope of online marketing is not going to die till the end.
Content Writer: Harshit Agarwal