5 Product Marketing Strategies for Selling online 2021
Selling online can be the best way to increase your business revenue and grow to high scales. Different online mediums are growing along with competition as well. So how you can improve your online selling and get more conversion and make it an easy process.
1.Targeting people that have buying intention
What does this mean? Selling to those who are already in search of it.
When a buyer searches anything on google, it gets different recommendations. Google shopping, paid ads and organic search results. As you can see in the below images,
Firstly you will find google shopping results. The fact is all the companies that you see here, none of them is on the top Google rankings. It's all because of google shopping. Google shopping put your product in front of potential customers having low search traffic.
In social media marketing, you have to find people who can buy your product and may or may not have that buying intent. But google shopping or google paid ads will be visible to the one who has a buying intent.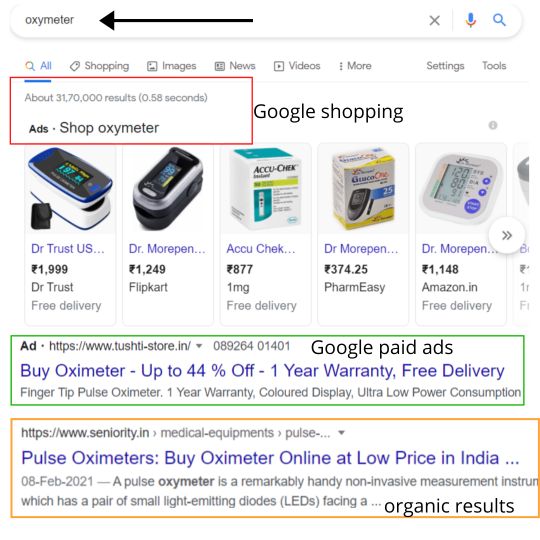 Like if anyone searches for Oximeter", they will get google shopping recommendations, paid ads and organic search results. These ads will be shown to those only, who are searching for them. You don't have to convince them to buy.
---
2.Provide real-life experience (5 Product Marketing Strategies)
Now every online shopping platform has one thing in common, they have images of models. Models wearing the same dress and giving the same look as it will give on you.
The idea is to put some real-life shots for clothing, shoes and all the exterior wearable items. This will make the buyer more confident during shopping and increase the conversion rate.
Creating real-life shots, how a particular product will impact the buyer make the selling easy and realistic.
Like when you search for the shirt, along with it different images are shown. One of the models is showing white shoes, jeans and goggles. So according to buyer intent, the next thing you would do is search for the same items because it looks good on the model. That's how we can convince the buyer for buying more instead of one item.
A marketing tactic of "what appears to the buyer is what will get sold". It can be one of the best out of 5 Product Marketing Strategies.
---
3.Getting along with Influencer marketing
How many brands are there selling shoes? How many brands are there selling electric shaver? The answer is 100s of brands. Therefore to survive in this competition you need to try some different approach for reaching your potential customer.
Also a tech hack, many of the users use ad block technology to get rid of unwanted ads. In this case, your chances of targeting paying customer decreases. Therefore you are left with one booming option, Influencer marketing.
People are more likely to trust people than brands. If anyone recommends you anything you always considers that as priority buying.
According to reports,92% of people believe in recommendations given by people.
To find an influencer for your product, you need to look for someone matching. if you want to promote your fitness products, you'll look for someone who
Has big muscles and a fitness freak
Promote fitness or health products
Engages regularly with followers
Conducts live sessions about fitness and lifestyle
Do giveaways and promotion for followers
While searching for the right influencer, take a look at the following section of your target audience. Also, notice the hashtags the target audience is using to search for the right influencer.
---
4.Website Testing (5 Product Marketing Strategies)
Website is the most important factor that needs to be very clear. No matter how beautifully your site is designed there's always room for improvement. Your product, targeting, and also audience always changes. Therefore a continuous up-gradation in the site is needed for the hour.
Diversion
The first task is to work on diversions. What's your main task, selling stuff or site visit? It's selling. But what most of the sites do, they put so much of content in the very first home page that visitor gets diverted.
In the above images, it's really hard to navigate or find services. The site is looking damn confusing and tiring to scroll. Instead of targeting directly, the site has created random diversions that decreases conversion.

Whereas the above two website shows clear navigation. The primary focus of the site is to take the user to the products section. Therefore they are at the top. Also while moving down, different buying variations are given to reduce the diversion rate.
Discount
Discounts are a great tool to sell your product. The sale is determined how motivating your discounts are. Always remember, customers are always looking for a bargain and they don't like math.
Let's take an example if you get a shoe with an actual price of 100$ but there is a discount of 10%. On the other hand, the actual price was 100$ but you got 10% off.
Both the statements mean the same thing, but the first one looks more eye-catch than the latter one.
Pro tip: Always include the discount in %.
Giving a perfect discount enhances the buying rate and helps to implement the 5 Product Marketing Strategies in a better way.
Simple Design
Keeping things simple is one the biggest relaxation you can give to your customer. A potential customer may get frustrated if they don't found it easy to look for products.
The best way to do that is to create categories and put similar products in one place.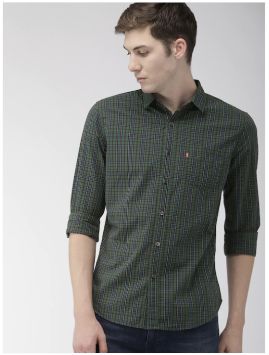 For example, if anyone is searching for a "full sleeves shirt" and then he looks for "t-shirts", they all should be in likewise category. Putting them far apart irritates the user and makes a negative impact.
Create categories and then subcategories to justify the products accordingly and in order.
---
5.Giving more mediums to collect information
When we talk about more ways to share information, it means videos especially. Videos are one of the best ways to share information quickly and effectively. While writing a blog post over the site, videos have a great impact.
According to EyeWideDigital, using video on landing pages can increase the conversion rate by 80%.
You can have videos in types of,
Product Description
Video source: LG
Providing product description really helps the viewer to get educated and increases the engagement of the site. Giving a product description video helps you to get more close to the sale of the product.
How to use (tutorial)?
Video source: Eureka Forbes
Sometimes the buyer is super confused about how to use a certain product. And that is one of the main reasons for not buying through you. Try to make the process super easy for the buyer. Putting a short video tutorial on "how to use ?" will definitely increase the chance that user will the buy product.
Technical information
Video source: LG
Have you ever got irritated or scared with the technical information while buying an electronic gadget for yourself? Being a layman, you will be completely unaware of the technical parts of the product. Due to this, you end up with zero purchase. At that moment the buyer will prefer the offline mode for shopping. This gives you zero sale.
---
Conclusion
In this article, we have completed the search for the right online selling strategies. Focusing on all is genuinely required for gaining the right customer interaction and product conversion. These are basic 5 Product Marketing Strategies and can be up to 1000s. Start with implementing the basic and get high-value results.
Content Writer: Harshit Agarwal